DR Congo veteran opposition leader Etienne Tshisekedi dies aged 84
Comments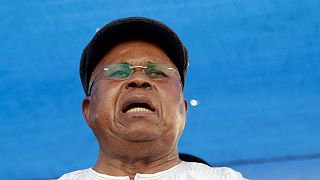 Democratic Republic of Congo's main opposition leader Etienne Tshisekedi, has died in Brussels, where he where he was visiting for health checks. He was 84.
The veteran politician was one of the country's most important advocates of democracy and a prominent opponent of successive Congolese leaders.
As word of his death spread in the capital Kinshasa, clashes broke out between members of his Union for Democracy and Social Progress party (UDPS) and police. Teargas was used to break up stone throwing supporters.
Tshisekedi's death comes at yet another key moment in the country's history following President Joseph Kabila's failure to step down when his constitutional mandate expired in December.
Tshisekedi had been due to head a transitional council under a deal for President Joseph Kabila to quit.
DR Congo is a country whose history has been marked by foreign intervention, civil war, coups and authoritarian rule. The popular politician's death could be yet another destabilising influence.
#DRC#Tshisekedi was courageous. Arrested many times for #peacefulprotest. Here is HRW</a> on his 1998 arrest. RIP <a href="https://t.co/exvhUlea95">https://t.co/exvhUlea95</a> <a href="https://t.co/TiKnaQd0fx">pic.twitter.com/TiKnaQd0fx</a></p>&mdash; Anneke VanWoudenberg (woudena) February 1, 2017
Career
Tshisekedi served as a minister under Mobutu Sese 
Seko who ruled the country for more than three decades before being overthrown by Rwanda and other forces.
1982 He co-founded the Union for Democracy and Social Progress (UDPS), the first organized opposition platform in Zaire (as DR Congo was formally called).
1990s He was named prime minister four times as Mobutu contended with calls for democracy, but Tshisekedi repeatedly clashed with the autocrat.
2011 He finished runner-up to Joseph Kabila in presidential election. Vote was reportedly marred by fraud and Tshisekedi's supporters have referred to him ever since as the "elected president".
#DRC In life or in death, #Tshisekedi will always be a true Game Changer. #RIPTshisekedipic.twitter.com/kraCx2cWJg

— Constant Mbala (@Kinois01) February 1, 2017