DRC Congo election: tensions mount as candidate appeals against result
Comments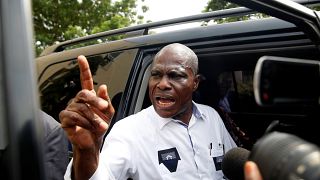 Democratic Republic of Congo's opposition presidential candidate Martin Fayulu has demanded a manual recount in the country's presidential election last month after rival Felix Tshisekedi was declared the winner by the electoral commission with over 38% of the vote.
Fayulu, the presidential runner-up, says he won 'in a landslide' with 60% Congolese voters. 
On Saturday, he delivered his appeal to the electoral commission as troops were deployed near his residence and outside the court in Kinshasha. 
He accuses Tshisekedi, who is also an opposition candidate, of making a deal with outgoing President Joseph Kabila, who has been in power for the last 18 years after his father was assassinated while serving as the country's leader.
Kabila has signalled he intends to stay in politics and could run for president in 2023 when he is no longer restricted by term limits.
In a Tweet, Fayulu said the result did not reflect the "truth of the ballot boxes" and that they were "fabricated out of whole cloth".
On Saturday, the United Nations Secretary General, Antonio Guterres, called for calm in the country following the announcement of the provisional results of the long-delayed presidential vote.
December's election was meant to be the DRC's first democratic transfer of power in 59 years of independence but there are fears for widespread violence, last seen during civil wars in the 1990s.
Thousands of Tshisekedi's supporters celebrated in the streets throughout the DRC, while Fayulu's supporters rallied together in protest.
At least two policemen and two civilians were reported to have been killed in the eastern city of Kikwit on Saturday.