DRC election: Tense delays cloud country's first democratic transfer of power
Comments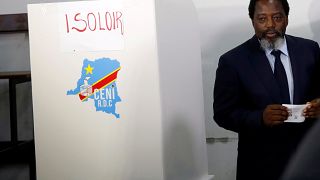 The Democratic Republic of Congo's long-anticipated presidential election could lead to the first democratic transfer of power in the nation's history.
More than 46 million Congolese have registered to vote ahead of Sunday's (30 December) election as stations opened at 5 am (04:00 GMT) and closed at 5 pm (16:00 GMT).
Broken voting machines and missing registered voter lists complicated the democratic process for many people throughout the DRC on Sunday, according to Reuters.
Opposition parties have accused electoral authorities of deliberately blocking people from casting their ballots.
Violent protests erupted earlier this week after Congo's electoral commission (CENI) announced that it was delaying the vote in the eastern cities of Beni, Butembo and Yumbi due to an ongoing Ebola outbreak and militia violence until March 2019.
Dozens of voters in Beni lined up to cast symbolic ballot papers on Sunday despite the delay.
The capital city of Kinshasha was hammered by torrential rain where many Congolese waited long hours at polling stations. Kinshasha represents nearly 15% of the country's total registered voters.
CENI said a fire earlier this month at one of the commission's main warehouses in Kinshasa destroyed 8,000 of 10,368 voting machines due to be used in in the vote.
One person who was able to vote in the capital was outgoing President Joseph Kabila.
President Kabila, who has been in power since his father's assassination in 2001, is due to step down after the vote in the first democratic transition for a country plagued by authoritarian rule coups and civil wars since independence from Belgium in 1960.
Kabila's choice to follow him as leader of the People's Party for Reconstruction and Democracy (PPRD) is the country's former interior minister Emmanuel Ramazani Shadary, is said to be trailing in opinion polls behind former Exxon Mobil manager Martin Fayulu representing the opposition (ECiDé) party.
"My only concern is that we have this very heavy rain and probably voter turnout might be low, but hopefully the skies will clear, and the voters will turn out in numbers," Kabila told reporters.
Witnesses told Reuters that several machines broke down Kinshasa, Goma and Bukavu, bringing voting in those polling stations to a halt. Some voters also complained their names did not appear on the rolls.
Critics are accusing Kabila of voter rigging as the majority of polls show the three regions barred from casting ballots support opposition parties.
Foreign diplomats told Reuters that around 60% of voting materials across the country were in place, and election observers said polling stations in the capital Kinshasa would struggle to accommodate all voters during voting hours.
On a broader scale, the opposition claims the DRC government has failed to distribute the fruits of recent economic growth across the 85 million population.
Under Kabila, the DRC's copper and cobalt output have increased exponentially but not translated to improvements in the lives of average people.
The DRC is known as one of the worlds' most mineral-rich countries but decades of authoritarian rule has crippled the country's ability to excel in international trade.
Kabila's agreement to stick to constitutional term limits should represent a step forward in the democratic process. However, many believe that if Shadary is elected, Kabila could continue to lead the PPRD from the sidelines.
Kabila has also not ruled out running for president again in 2023 when the next election is scheduled.
Many opposition leaders remain confident the Democratic Republic of Congo will soon see a dramatic change.
"Today, we mark the end of Mr Kabila, the end of the misery of the Congolese people," said opposition candidate Martin Fayulu after voting in Kinshasa.
The most recent poll released by New York University's Congo Research Group shows Fayulu (ECiDé) leading with 47% of Congolese voters. Another opposition leader, Felix Tshisekedi (UDSP), trailed in the poll with 24%, while Shadary (PPRD) is attempting to overcome only 19% support.
The electoral commission said official results will be announced on 15 January.