African leaders back plan for mass ICC withdrawal
Comments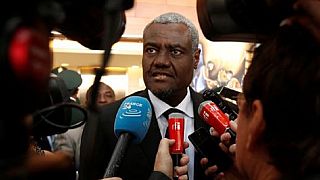 African leaders on Tuesday adopted a strategy calling for a collective withdrawal from the International Criminal Court (ICC).
The decision which is not legally binding came behind closed doors near the end of an African Union summit in
Ethiopia.
Reports said countries had been divided on whether to call for leaving the court individually or together.
Africa has 34 signatories to the Rome Statute, the treaty which set up the court in 2002.
Late last year, South Africa, Burundi and Gambia all announced plans to leave the court, leading to concerns that other states would follow.
African leaders argue the court – set up to prosecute perpetrators of war crimes and genocide – unfairly singles out crimes in the continent for prosecution.