US Democrats boycott votes, delaying confirmation of Trump's nominees
Comments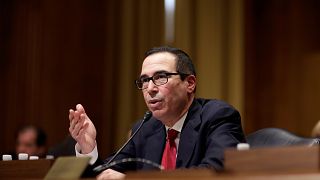 US Democrats have stepped up their opposition to Donald Trump, by boycotting a planned committee hearing to confirm his Cabinet picks.
The votes on Steve Mnuchin to be Treasury secretary and Tom Price to head the Health and Human Services department have been postponed as a result.
Democrats say they need additional information on the nominees, but the Republican chairman of the Finance committee, Senator Orrin Hatch called the boycott 'shocking.'
"We have just been presented, just a few minutes ago with a list of demands by the Democrats. They didn't have the courtesy to tell us a week ago. Could have easily done that, although that was too late too because we've had these hearings. We've had all these meetings. We've worked together. I was led to believe they were ready to vote today. I've never seen anything quite like this," exclaimed the senator.
At the Senate Judiciary Committee, Democrats attempted to block Senator Jeff Sessions's nomination as attorney general, after they criticised Trump for firing acting attorney general Sally Yates, who defied the president over his controversial travel ban.