Romanians protest against government emergency decrees
Comments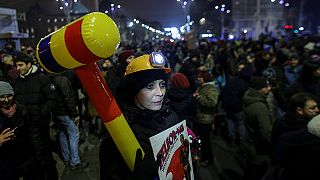 An estimated 50,000 people, took part in a rally in Bucharest on Sunday night in another protest at government plans to decriminalise certain offences and pardon convicts.
Critics have condemned Romania's Social Democrat government for wanting to bring in the proposals using emergency decrees. They say it is an abuse of power and it will undermine the current crackdown on corruption.
"What troubles us is the lack of transparency and also the content of the law. The changes to the penal code should not be carried out in such a manner like emergency decree," said one protester.
Pardon plans
The proposals would primarily affect people serving sentences of less than five years, except those convicted of sexual or violent crimes.
Prisoners over age 60, pregnant women and inmates with young children would see their sentences halved regardless of the charges on which they were convicted.
The government also intends to decriminalise official misconduct that involves financial damage valued at less than 200,000 lei (44,323 euros)
Official estimates say around 2,500 prisoners will be released helping reduce prison overcrowding.
Those opposed say it will free government supporters jailed on graft charges.
Liviu Dragnea
Ruling Social Democrat Party leader and parliament lower house speaker Liviu Dragnea is currently on trial in an abuse of power case. He is also serving a two-year suspended jail sentence in a vote rigging case.
President joins #protests, angry that a "clique of politicians with criminal problems" want to weaken #ruleOfLaw! #romania#anticorruptionpic.twitter.com/lCNdCDYUVT

— Sabina Ciofu (@SabinaCiofu) January 22, 2017
Romania's President Klaus Iohannis who took part in protests a few days ago, has joined in the criticism and wants a nationwide referendum to step up the anti-corruption fight.
On Monday, (Jan.20), Justice Minister Florin Iordache is to hold a round of public consultations over the plans – on which the country's top panel of magistrates has already issued a non-binding, negative opinion.