Homes evacuated in Chile amid battle to control wildfires
Comments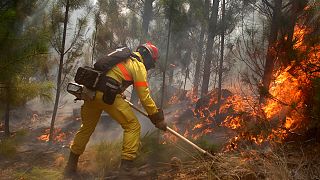 Residents of the Chilean town of Portezuelo have been evacuating their houses in the face of advancing forest fires.
They had tried creating a fire wall in the town about 400 kilometres south of Santiago. But they were forced to abandon their plan when the wind direction changed.
Other areas are also still being affected, with police and the military moving people out of their homes and cutting off roads.
The authorities have been detaining people suspected of starting the forest fires deliberately.
According to local media, one woman – filmed as she was brought in for questioning – acknowledged setting rubbish alight.
If convicted, the arsonists face up to 20 years behind bars.
Chile's central and southern regions have been ravaged by the fires for over a fortnight.
After destroying more than half a million hectares, they seemed to be in retreat on Sunday after help, including American and Russian planes, arrived from several countries.
By the weekend at least 11 people were reported to have died in what are described as the worst fires in Chile's history.