Alpine skiing: Reichelt produces rare win in number one bib
Comments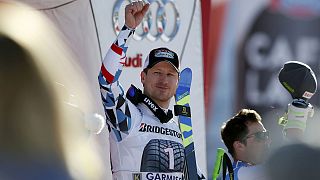 Hannes Reichelt stood on top of a World Cup podium for the 12th time in his career when he won the final men's downhill race before the World Championships in St Moritz.
The Austrian speedster mastered the Kandahar slope at the German resort of Garmisch Partenkirchen to make amends for his fourth-place finish the day before – also a downhill race.
Reichelt, who won this race in 2015, becomes the first skier in nine years to taste success having set off first with the number one bib.
Peter Fill took second place, 0.16 seconds off the pace to go one better that the day before when his finished third.
It turned out to be a very successful day for the Italian who with his runners-up finish took the lead in the downhill standings 32 points clear of Norwegian Kjetil Jansrud.
Beat Feuz completed the podium in third place.
The Swiss skier was 0.52 seconds away from the win but it marked his first top three finish in a world cup downhill since St. Moritz last March.
The men's World Cup circuit stays in Garmisch on Sunday for a giant slalom.