The end is nigh 'Doomsday Clock' ticks closer to midnight
Comments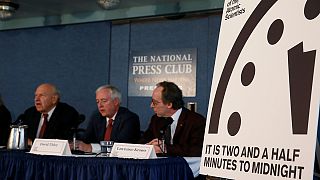 Scientists and scholars have moved the hands of the 'Doomsday Clock":http://thebulletin.org/overview, ' a symbolic countdown to the end of the world, to two and a half minutes to midnight.
The Doomsday Clock is now two-and-a-half minutes from midnight, the closest it's been to midnight since 1953. https://t.co/tk3LiShPB3pic.twitter.com/6YZCeiLJV1

—

USA

TODAY

(@USATODAY) January 26, 2017
Every year the Bulletin of the Atomic Scientists that set the clock decideds whether the year gone by has pushed humanity closer to destruction.
Nuclear 'Doomsday Clock' ticks closest to midnight in 64 years https://t.co/TXB0kZyR5Epic.twitter.com/ZsPkyJYyy7

— Reuters Top News (@Reuters) January 26, 2017
The time is now the closet to midnight it has been since 1953, the year the first hydrogen bomb was tested.