Police probe Israeli PM Netanyahu again over alleged corruption
Comments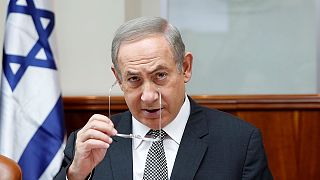 Israeli prime minister Benjamin Netanyahu has once again been questioned by police as part of an on-going corruption inquiry.
Detectives arrived at Netanyahu's residence in Jerusalem on Friday morning.
The Israeli premier, who is said to be facing four separate probes, is being investigated over his links to big business.
He is suspected of taking luxury gifts – worth tens of thousands of euros – in return for favours.
Netanyahu is also alleged to have offered to pursue legislation to benefit a national media mogul in exchange for favourable news.
He denies any wrong-doing, accusing the media of launching a witch-hunt against him aimed at bringing down his ruling Likud coalition.
Despite that, the country's Attorney General is reported to have enough evidence to launch a criminal investigation into Netanyahu next week.