Gambia: West African force 'to be gradually cut' after Barrow return
Comments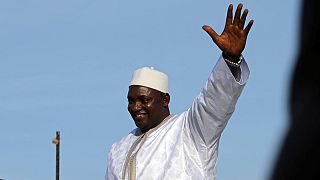 Reports from Gambia say the West African military presence in the country will gradually diminish in the period following President Barrow's return to the country to take power.
The news agency AFP has quoted a Senegalese general from the regional force ECOWAS, François Ndiaye, as saying that they had made a positive assessment of the security situation.
Gambians have been reacting to Barrow's arrival on Thursday following his election victory nearly two months ago. Under a regional deal his predecessor has gone into exile.
"Truly we have a lot of hope in Barrow because all Yahya Jammeh did was kill people. He wasted the country's money and tarnished our religion. He destroyed everything. We know Barrow well. He will be able to lead the country well," said Basiru Gii, a businessman in the capital Banjul.
"Everybody is happy. Jammeh was a loser and we drove him away. Both old and young welcomed our leader yesterday, and now Gambia is free. For 22 years we had hardship, but now everybody is free and we know the economy will grow soon," said Omar Musa, a young unemployed man.
Last weekend the head of ECOWAS said 4,000 troops were involved in the mission to force Yahya Jammeh, who'd refused to accept his electoral defeat, to quit.
The operation was launched last week after President Barrow's inauguration in the Gambian embassy in Senegal. It was then suspended to allow for diplomatic pressure, and the ex-leader finally left the country a few days ago for exile in Equatorial Guinea.
The outcome is being celebrated as a moment of democratic hope for Africa, although The Gambia's tiny size is said to have helped.