EuroLeague: Belgrade win seven in a row as Fenerbahce win Istanbul bragging rights
Comments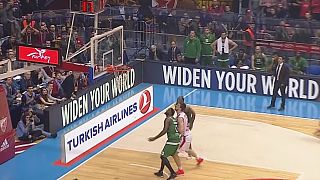 Crvena Zvezda Belgrade celebrated their seventh straight win in the EuroLeague on Thursday evening when they beat six-times champions Panathinaikos in front of a sellout crowd in the Serbian capital.
The home side got off to a blistering start and were leading by six at the close of the first quarter.
They held onto that cushion at halftime and despite a sprited comeback by Pana in the third Belgrade held on in the fourth to see out a 72-66 victory.
Marko Simonovic led the winners with 13 points as Luka Mitrovic chipped in with 11. Kenny Gabriel paced Panathinaikos with a career-high 23 points but it wasn't good enough as the Greeks dropped to a seventh best 11-9 in the league.
Belgrade are now 12-8 in fifth place.
Elsewhere on the night Fenerbahce Istanbul rallied from a 15-point third-quarter deficit to down city rivals Galatasaray.
Fenerbahce, playing in yellow registered their third straight win on the bounce to lift their season record to 13-7 which keeps them in the top four of the 16 team standings.
It couldn't be any worse for Galatasaray though.
As a result of losing the Istanbul bragging rights they have now slipped to 6-14 for the season and are routed to the bottom of the table.
Jan Vesely shined for the home side and notched up 20 points to pace Panathinaikos while Bobby Dixon added 17 points in the 85-80 victory.