RBS prepares to pay for 'painful' sub-prime legacy
Comments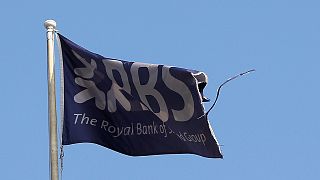 Royal Bank of Scotland says it has set aside 3.1 billion pounds (3.6 billion euros) to settle claims by the US Department of Justice.
The future settlement relates to mis-sold toxic investments linked to sub-prime mortgages in the run up to the 2008 financial crisis.
"This bank, and of course the British taxpayers, have paid a very heavy price for the decisions that were made at RBS before the crisis," RBS Chief Executive Ross McEwan said on Thursday.
"Today's announcement is yet another painful example of that legacy," he said, adding the amount being set aside, "reflects the legacy of time when RBS lost its way on its quest to build a global bank".
No profit again
The provision means RBS will likely not make a profit in 2016, which would be its ninth straight year of losses. Its 2016 results are due to be announced on February 24.
The bank's shares rose 2.4 percent on Thursday at the prospect of its drawing a line under the US investigations, though negotiations have not yet started and it remained uncertain when a settlement might be reached.
RBS is more than 70 percent taxpayer owned after being bailed out by the British government to the tune of 45.5 billion pounds.
#RBS sets aside £3.1bn for US fine. CEO#RossMcEwan explains new business model in video interview https://t.co/7JvnOvQnJI

— Brian Caplen (@BrianCaplen) January 26, 2017
RBS is the latest European bank that needs to reach a settlement with US authorities. Credit Suisse earlier this month agreed to pay $5.3 billion and Deutsche Bank agreed to pay $7.2 billion to settle their respective mis-selling cases.
These settlements stem from an initiative launched in 2012 by former US President Barack Obama to hold Wall Street accountable for misconduct in the sale of the securities that helped to trigger the worst economic crisis since the Great Depression.