Credit Suisse bosses face anger from shareholders
Comments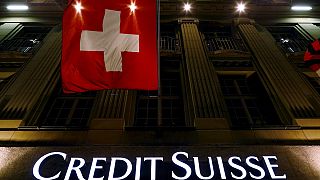 The shareholders of Credit Suisse have given the bank's bosses a rough ride at its annual investor meeting in Zurich.
Trust in the current leadership is shattered
Chief Executive Tidjane Thiam and Chairman Urs Rohner were the subject of anger over the falling share price of Switzerland's second-biggest lender amid a major restructuring.
Thiam sought to reassure shareholders that his turnaround plan will bear fruit.
The bank's shares have lost over 40 percent of their value since the former head of British insurer Prudential took charge last July.
The decision to pay top management bonuses for 2015 despite losses was also not popular.
Thiam, who is cutting 6,000 jobs and moving away from investment banking to wealth management, said that "is the only path that will lead to success in the long term".
Rohner said he was convinced the strategic plan, announced in October, had put the bank on the right track but that its implementation would place "considerable demands on all the parties concerned over the next two years".
Dominique Biedermann, chairman of shareholder advisory group Ethos, told the group's annual meeting: "The situation has become extremely serious." He added: "Trust in the current leadership is shattered."
Annual General Meeting of Credit Suisse Group AG: All proposals put forward by the Board of Directors approved. https://t.co/qj36dSIubg

— Credit Suisse (@CreditSuisse) 29 April 2016
So far major shareholders have backed Thiam's strategy, but there are concerns that Credit Suisse is looking to expand in Asian wealth management just as Chinese growth is slowing.
Some also fear Thiam's targets are too optimistic, including one to more than double pre-tax income from Asia Pacific in 2018.
"The first quarter of 2016 has seen a continuation of the negative pressures experienced in the final quarter of 2015," the CEO said in his speech.
"January and February were simply two of the worst months ever in international markets. As a result, we decided to accelerate our strategy of right-sizing and de-risking our market activities."
He told the AGM that the recent share slide had been disappointing for him personally.
"I believe that in the longer term," Thiam said, "there is only one way to improve Credit Suisse's share price: demonstrating the merits of our strategy and the value of our team through the delivery of strong and consistent results."
The shares fell four percent on Friday.
Annual General Meeting 2016: Speech from CEO Tidjane Thiam. https://t.co/k4Wbgq6CDS

— Credit Suisse (@CreditSuisse) 29 April 2016
Annual General Meeting 2016: Speech from the Chairman Urs Rohner. https://t.co/51srgWgmMs

— Credit Suisse (@CreditSuisse) 29 April 2016