Frontier friction as Mexican president snubs Trump talks
Comments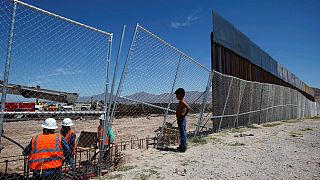 Mexicans have reacted positively
to President Enrique Peña Neito's refusal to travel to the United States for planned talks with President Trump.
Esta mañana hemos informado a la Casa Blanca que no asistiré a la reunión de trabajo programada para el próximo martes con el POTUS</a>.</p>&mdash; Enrique Peña Nieto (EPN) January 26, 2017
The pair were due to discuss bilateral cooperation and assess immigration and trade concerns.
Trump's insistence to turn his campaign pledge, to build a wall along the border with Mexico into reality, has further tarnished relations between the neighbours.
In Mexico City residents back their president:"I don't think they show us respect.The decision of the wall is totally well, I see it as archaic. So I think it's a smart decision from the president," said one man.
The President of Mexico Enrique Pena Nieto EPN</a> shows smaller nations can have huge non-negotiable dignity. Beware. <a href="https://t.co/t8SyHF4e6J">pic.twitter.com/t8SyHF4e6J</a></p>&mdash; Rev Jesse Jackson Sr (RevJJackson) January 26, 2017
A sentiment shared by a fellow Capitalina:
"For everything Trump is saying, that he wants the wall to be built, that he wants to pull out of the free trade deal. I think it's a good move to start telling Trump that what he's doing is not right."
As Neito's no show was announced Trump's spokesperson said the US would impose a tax on goods imported from Mexico and use the revenue to build the wall along the frontier.