Somalia: death toll rises in Mogadishu hotel bombings
Comments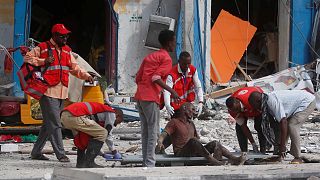 The number of confirmed dead from a dual attack on a hotel in Mogadishu rose to 28 on Wednesday, according to the ambulance service in the Somali capital.
Militants from the Islamist group al Shabaab rammed a car bomb into the gate of the hotel.
A second explosion was caught on camera as security forces arrived and media gathered to film the aftermath of the first attack.
VIDEO: Footage of the bombing attack in Mogadishu which killed at least 28 people.https://t.co/6hG2T9LNNb

— Conflict News (@Conflicts) January 25, 2017
More than 40 people were said to have been injured in the two blasts.
Politicians often stay at the Dayah hotel: about a dozen were wounded. A number of journalists were also among those hurt.
"I and other journalists were covering the scene of the blast when the second bomb exploded. I saw a lot of people lying on the ground dead and others wounded. The environment around the city has changed," said one injured Somali journalist, named as Gurey.
A radio station close to al Shabaab said it was behind the attack.
Over the past two years a campaign by African Union troops and Somali forces have driven the militant group out of key urban strongholds, but it remains active from bases in rural areas.
Strongly condemn today's attack at Dayax Hotel in #Mogadishu. Heartfelt condolences to the family & friends of all those caught up in it

— David Concar (@DConcar) January 25, 2017