Olympic course stands firm on controversial female membership policy
Comments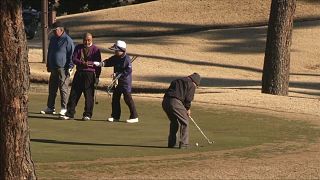 A Japanese golf club set to host 2020 Olympic tournament said on Wednesday it would not change its membership policy that bars female players becoming regular members.
Kasumigaseki Country Club lets women play Monday through Saturday but bars them from becoming full members and from playing on Sundays.
But the general manager of the club, Hiroshi Imaizumi, countered: "Regarding the criticism that we're banning women from playing on Sundays, we're actually allowing females with weekday or family membership to play on about half of all Sundays and holidays and thus, we're not completely banning females from playing on Sunday."
The club official however did hint at some room for maneuver:
He said: "We're trying now to explain and make the International Olympic Committee understand our policy on female members, but if we cannot convince them, then I think we can discuss about ways to resolve the problem."
The IOC has yet to make an official comment on the situation but after several notable country clubs around the world, including St Andrews and Augusta, changed their policies on female members in recent years, coupled with the growing criticism of the course, it's unlikely the status quo at the venue will be kept.