Dow over 20,000, global shares rally
Comments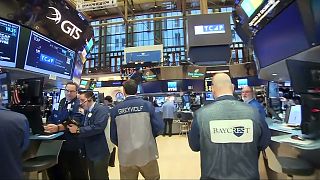 Share prices jumped worldwide on Wednesday.
There are no magic numbers but we like to pretend that there are

Wells Fargo Asset Management
Among the factors – strong Japanese trade data showing the country's exports rose for the first time in 15 months in December and solid earnings by European companies such as computer peripherals maker Logitech, Spain's Banco Santander and British retailer WH Smith.
In New York renewed investor enthusiasm over US President Donald Trump had the Dow Jones Industrial Average trading above 20,000 for the first time ever.
Unsurprisingly, Trump tweeted a response to that.
Great! #Dow20Khttps://t.co/wXFhXBLgag

— President Trump (@POTUS) January 25, 2017
Which just as inevitably sparked a flurry of Twitter rebuttals:
Of course, a man who calls himself "self-made" after inheriting millions would take credit for inheriting a thriving economy.#dow20k

— Nick Jack Pappas (@Pappiness) January 25, 2017
Got to love how ecstatic Republicans are over #Dow20k but when it went from 7,300 to 19,250 under BarackObama</a> nothing but anger and angst</p>&mdash; ♻️ Christopher Zullo (ChrisJZullo) January 25, 2017
Trump, You have Done Nothing to Cause the Dow Jones to Hit 20k. It's Obama's Economy. Any bump is due to your Pro-Wall St. Stance #dow20k

— Impeach Donald Trump (@Impeach_D_Trump) January 25, 2017
Just a number
Investors said crossing the Dow 20,000 mark was just a number, but still nice to have.
"There are no magic numbers but we like to pretend that there are," said Brian Jacobsen, chief portfolio strategist at Wells Fargo Asset Management in Menomonee Falls, Wisconsin.
The occasion was "like watching your odometer cross over 100,000 or peeking up at the clock and noticing that it's exactly noon," he said.
Business friendly
The recent surge in the indexes of top US shares comes from expectations that he will be more business friendly – deregulating the financial sector and cutting taxes to stimulate the economy which should increase corporate profits.
Investors are betting Trump's expected fiscal stimulus will trigger inflation and stoke a rise in interest rates.
The Dow has advanced 11 percent since just before Trump's election but had been sputtering in recent weeks as investors sought clarity on his growth initiatives.
The dollar dropped to a near seven-week low on Wednesday of 99.84 on concerns about Trump's protectionism stance and the potential negative effects on global trade and growth.
How fast
The Dow Jones Industrial Average's ascent from 10,000 to 20,000 has taken almost two decades.
It took just 42 sessions for the Dow to climb between 19,000 and 20,000, the second-fastest rise between 1,000-point milestones in the average's 120-year history.
Hitting 20,000 is seen by some as a psychological milestone that underscores Wall Street's recent optimism.
But longer-term, the Dow's performance appears less impressive. Its ascent from 10,000 to 20,000, doubling in value, has been sluggish compared to the time it took for the Dow to double in value three times in the late 1980s and 1990s.