Italy holds first funerals for avalanche dead
Comments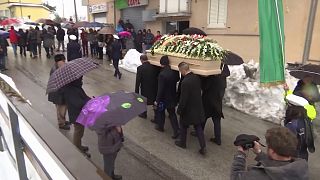 The first funerals for victims killed in the hotel Rigopiano in central Italy, which was destroyed by an avalanche last week, have been held.
On Tuesday, crowds gathered in the hilltop town of Farindola for the burial of Alessandro Gincaterino, the hotel's chief waiter. He had stayed to do a double shift so a colleague would not have to make the treacherous trip to the mountain resort through the snow.
In total, 16 bodies have now been recovered from the ruins of the wrecked hotel as rescue teams continue the desperate round-the-clock search for survivors.
So far, 11 people have been pulled out alive, while 13 are still missing.
Officials admit hopes of finding anyone else alive are fading fast, but they haven't completely given up.
Teams are said to be tunneling through think stone walls to rooms they believe are still in-tact and where people may have managed to survive.
Meanwhile, an investigation has been launched into whether a series of missed communications and a failure to spot risks could have contributed to the tragedy and the number of dead.