Italy avalanche hotel: Death toll rises as desperate search continues
Comments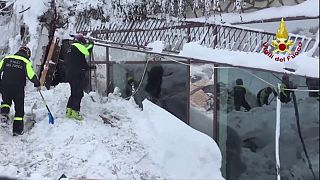 More bodies have been found in the buried ruins of a mountain hotel in central Italy as questions multiply over the official response to last week's blizzards and deadly avalanche.
The remains of three victims were found overnight on Monday-Tuesday. A further two bodies were discovered on Tuesday morning.
It means 14 people are now known to have died under the snow and debris. Fifteen others remain missing.
Hopes had been raised that survivors could be sheltering in air pockets, after the discovery of three sheepdog puppies under the snow.
Meet the adorable puppies who survived five days trapped under avalanche rubble https://t.co/SOfq35hkO4pic.twitter.com/WHL89R1Loa

— The Local Italy (@TheLocalItaly) 24 janvier 2017
As a round-the-clock search continues, authorities have pledged to review their emergency response and a local court has opened an investigation.
It comes after Italian media published an email sent by the hotel manager to several local services, just before Wednesday's tragedy, calling for roads to be cleared so guests could escape after earthquakes rattled the region.
"The clients have been terrorised by the tremors," it said.
However, no help came before the avalanche struck.
Local authorities said that their most powerful snowplough had broken down and they did not have the money to repair it.