Bolivians pray for good fortune at traditional Alasitas Festival
Comments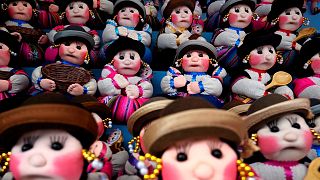 On January 24 each year, people from all over Bolivia flock to La Paz to take part in the traditional Alasitas Festival which is a shopper's paradise.
They fill their baskets with miniature versions of things they desire – everything from cars, houses computers – to give to Ekeko the God of abundance, in the hope he will being therm good fortune. And it is all carried out with a priest's blessing.
"I have always received this blessing from the Father. May he bless me with a house, money, work and good health," said one woman.
Wishing for good grades or a job? Get an Ekeko and deck it out with your heart's desires for Bolivian Alasitas festival today. pic.twitter.com/nWvexvJaEo

— Clacs@MSU (@ClacsMSU) January 24, 2017
"My family bought me a small house, and it's going to be good for me all year, it's going to drive away the evil spells. Buying a house means that soon you will have one, although we already have one, but it is still good to have. Everything with faith; you know, faith moves mountains," said another festival goer.
Because Ekeko is a demanding God who must be kept happy, along with providing him miniature gifts, Bolivians also light a cigarette in his mouth, sometimes throwing a bit of alcohol on the floor in front of him before drinking it themselves. In return for these gifts, Ekeko watches over their family, keeping misfortune at bay and reciprocating any generosity he receives before the year is out.
Originally, the Festival of Alasitas was a celebration by farmers praying for plentiful crops.Today, the meaning amounts to the same only locals hope for more material goods.
24 Jan 2017 Feria de Alasitas begins at midday at La Paz in Bolivia https://t.co/fGeyUbY4Ygpic.twitter.com/9bMTfKTyUi

— George Costanza (@FeatOfStrength) January 23, 2017