Trump's crowd controversy - what are the facts?
Comments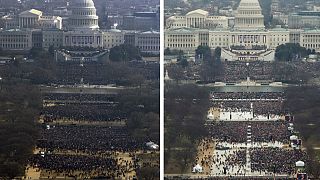 Donald Trump's press secretary was providing 'alternative facts' when he claimed the billionaire's inauguration had been witnessed by the largest-ever audience, according to one of the president's key advisors.
Kellyanne Conway, speaking on NBC's Meet The Press, defended Sean Spicer amid claims his comments were a blatant lie.
Aerial photographs and transport data suggest more people attended Barack Obama's inauguration in 2009 than Trump's on Friday, although neither are conclusive.
Spicer said: "This was the largest audience ever to witness an inauguration, period."
Conway, defending his remarks, said those around Trump had been prompted to make the statement because the media was unwilling to discuss serious policy issues.
She told NBC: "We feel compelled to go out and clear the air and put alternative facts out there."
Her statement was mocked on social media, prompting memes around the hashtag #alternativefacts
Icebergs are disappearing because polar bears are eating them #alternativefacts

— David Belz (@dmdb44) January 23, 2017
What are the facts?
- Aerial photographs of both inauguration suggest more people attended the 2009 inauguration. Both photographs were reportedly taken around 45 minutes before each president took the oath of office.
Here's a comparison of the inauguration crowds between Obama in 2009 and Trump in 2017. #InaugurationDaypic.twitter.com/aO96vgtbJR

— euronews (@euronews) January 20, 2017
- TV viewing figures, released by Neilsen, reveal 30.6 million watched Trump's inauguration compared with 37.7 million (2009) and 20.5 million (2013) for Obama. The largest-ever was 41.8 million that watched Reagan's inauguration in 1981.
- Washington Metropolitan Area Transit Authority reported, as of 11am on January 20, there had been 193,000 metro trips. That compares against 513,000 on Obama's first inauguration and 317,000 for his second. This gives an indication to the number of people in the city, although clearly the metro is not the only way people can get to the inauguration, so again, this is inconclusive.
Metro Ridership: As of 11am, 193k trips taken so far today. (11am 1/20/13 = 317k, 11am 1/20/09 = 513k, 11am 1/20/05 = 197k) #wmata

— Metro (@wmata) January 20, 2017