Frosty exchanges as Syria talks begin in Astana
Comments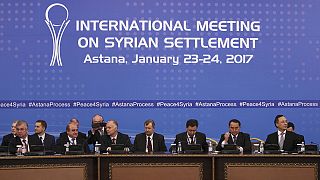 Talks between Syria's warring parties got underway in Kazakhstan on Monday with a war of words.
The government's lead negotiator called his counterparts for the rebel forces rude and unprofessional, accusing them of defending war crimes committed by a militant group formerly known as the Nusra Front.
"The provocative and flippant tone of the statement of the head of the terrorist delegation was an insult to the (diplomatic) craft of those attending," said Bashar Ja'afari, Syrian Ambassador to the UN and head of the Syrian government delegation at the peace talks.
By calling the opposition terrorists, he was not in tune with Russia or Turkey which brokered the conference.
The head of the opposition delegation, Mohammad Alloush, said he wanted to consolidate the ceasefire and freeze military operations, saying Iran-backed militias had to leave the country.
One advisor to the opposition said all eyes would be on Moscow.
"The measure of Russia's success in its role as a guarantor is whether it is able to address the challenges of imposing the ceasefire on its allies, the regime and Iran," said Osama Abo Zayd, legal advisor for the Free Syrian Army.
The talks – conducted via a mediator – are the first between the two warring sides in a year and mark the first face-to-face meeting between government representatives and a delegation heavily made up of rebels.
Despite the talks, fighting has continued – Syrian government troops clashing with rebels near Damascus, and with the self-proclaimed Islamic State in Deir al-Zor in the east.
The government-controlled Syrian Central Military Media has released footage of what it said was ongoing fighting between the army and rebels in the northwest and with ISIL in the east.
The Associated Press said the pictures could not be independently verified.