Bullfighting brought back to Bogota, awakening age-old arguments
Comments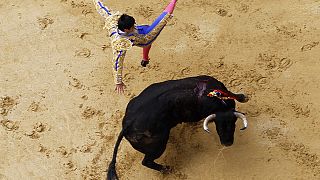 Bullfighting has returned to the Colombian capital, reawakening an age-old argument.
While some consider it a sport, thousands gathered in Bogota to protest against what they see as animal cruelty and barbarism.
A number of arrests were made after the protests turned violent. Demonstrators throwing rocks and pushing down barricades were countered by police with stun grenades, batons and gas.
Bullfighting has not been practised in the city since the previous, left-wing mayor banned it four years ago. But the constitutional court has since overturned the decision.
Felipe Castillo was attending the fight.
"It is clearly a political issue. While the previous mayor had a clear stance against bullfighting, the current mayor has said that he does not agree with it, but those who want to watch it are at their own liberty to do so," he said.
But activist Laura Torres argued it was cruel and unnecessary:
"Let's be cultured, let's be human. This is not art, this is nothing but violence. This is, seriously, torture."
Current mayor Enrique Penalosa argues he has no choice but to enforce the court ruling, but says he supports animal rights activists. He has openly backed planned legislation to prevent the state from financing bullfights.
The proposed law would also allow each district to decide whether the events can take place.