Britain's Theresa May tight lipped over Trident missile test
Comments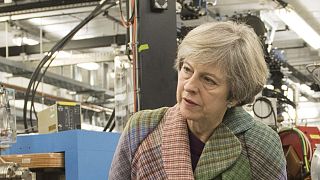 Theresa May is coming under increasing pressure to divulge more details about what happened during a Trident missile test last June.
So far, the British prime minister has refused to deny or confirm if the missile misfired after it was reported that it went of course.
May was told about the test upon taking office in July, shortly before MPs voted to renew the nuclear weapons system.
"I'm regularly briefed on national security issues. I was briefed on the successful certification of HMS Vengeance and her crew. We don't comment on the operational details for national security reasons,'' the UK prime minister said.
It is believed the missile, which was fired off the US coast, was forced to self destruct after it veered inland instead of out to sea.
The timing of the alleged incident is crucial as it took place a few weeks before parliament approved more than 45 billion euros to build new Trident submarines.
Despite accusations of a cover up, on Monday the UK's defence secretary Michael Fallon also refused to disclose details of what happened during the test fire, declaring absolute confidence in the weapons system.