Italy avalanche: rescue teams pull out four more survivors
Comments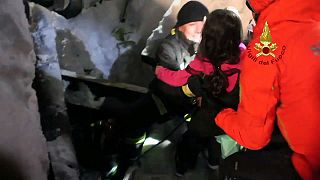 11 people have now reportedly been pulled alive from the rubble of an Italian hotel which was destroyed by an avalanche.
Rescue teams confirmed that four more survivors were saved overnight after several people, including four children were found.At least five people are confirmed dead and 23 still missing.
Most of those rescued are said to be doing fine.
Rossano Di Luzio, the Director of the Pescara Hospital where survivors have been taken, said: "The medical condition of the survivors is good. Only one patient is currently in the operating theatre having surgery on the right arm."
Around 40 people were in the Hotel Rigopiano when a tsunami of snow smashed into it on Wednesday.
The avalanche came hours after a series of tremors struck the Abruzzo region, hit by several deadly earthquakes last year.
A number of voices have been heard under the rubble but it is proving hard to locate them.
Commander Lorenzo Gagliardi, Head of the Alpine Rescue Team said: "Colleagues have told me that they've heard voices. I hope we'll have some more good news today.''
Scores of mountain police, firefighters and other emergency workers have been deployed to the hotel, but progress is proving slow due to the deep snow in the area and fears of further movements.