Trump kicks off inauguration weekend with 'Make America Great Again' concert
Comments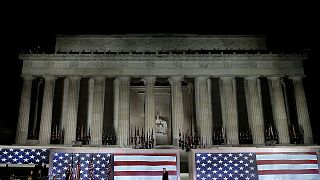 Donald Trump began his inauguration weekend with a bang.
The president-elect addressed the crowd at the Lincoln Memorial in Washington, many of them wearing the now notorious 'Make America Great Again' baseball caps, telling supporters 'You are not forgotten anymore'.
For an alternative view of the inauguration click here
"I don't care, frankly, if it's going to be beautiful, or if it's going to rain like crazy. Makes no difference to me. I have a feeling it's going to be beautiful. You're going to cheer me on, but I'm going to be cheering you on because what we've done is so special. All over the world, they're talking about it. All over the world," Trump said.
The pre-presidential concert was somewhat lacking in A-list celebrities, with famous acts refusing the invite, but instead had a rather eclectic mix of performers including DJ Ravi Drums, post-grunge act 3 doors down, and Youtube stars The Piano Guys who sang 'Everything's going to be OK'.
Earlier on Trump and his vice-president elect paid their respects to America's war dead at Arlington cemetery.
As the capital prepares for more lavish events, it is also bracing for crowds of protesters, leaving the question will Trump be able to bridge the partisan divide?