Six people found alive in Italian hotel destroyed by avalanche
Comments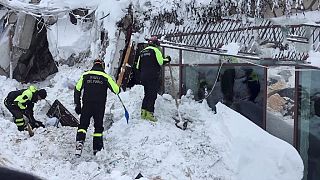 Rescuers in Italy have found six people alive under the avalanche that destroyed a hotel in central Italy two days ago.
Hopes had been fading fast of finding any of the 30 people including four children reported missing.
Rescuers are now attempting to get through thick ice and debris to reach the survivors.
Four bodies have been recovered from the hotel.
The tragedy happened just a few hours after four earthquakes hit the area.
The rescue effort was slow to begin as the avalanche happened amid a snow storm, blocking access for emergency services.
An investigation has been opened by authorities.