Palestinians protest against Trump plan to move US embassy to Jerusalem
Comments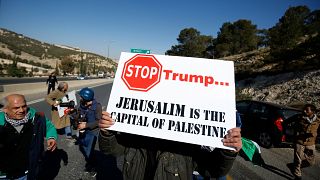 Angry Palestinians used Donald Trump's inauguration day for more protests against his idea of moving the US embassy in Israel from Tel Aviv to Jerusalem.
They turned out in a West Bank settlement that borders Jerusalem and warned that would undermine peace and stability in the Middle East.
Trump's spokesman said on Thursday there will be an announcement on the issue.
"No peace"
Munther Amirah, the Palestinian activist who organised Friday's protest, had this message for Trump: "We want peace. But, if you bring the American embassy to Jerusalem we will have no peace here. If you will support the colonisation here, the settlements, there will be no peace. Our Palestinian people are fighting for peace, they are fighting for their own rights, justice. We have to end the apartheid in Palestine."
Arab East Jerusalem was annexed after being captured in the 1967 Middle East War and is not recognise as Israel's capital by the US or other countries.
Trump has accused the Obama administration of not being friendly enough to Israel. Obama has been highly critical of Israeli settlement construction in the occupied West Bank and East Jerusalem. Most countries view all Israeli settlements on occupied land that the Palestinians seek for their own state as illegal.
If Trump follows through on his pledge to move the embassy it would find favour with many Jews, but cause much anger throughout the Islamic world.
Reaction in tweets
Israelis welcome new president, as IDF braces for escalation over embassy move https://t.co/nVFYqOUY6z

— The Times of Israel (@TimesofIsrael) January 20, 2017
OIC condemns embassy move to Jerusalem as Trump reaffirms commitment https://t.co/YoT0GSrn2Y via MiddleEastMnt</a></p>&mdash; Ibrahim Hewitt (ibrahimhewitt56) January 20, 2017
Nikki Haley, Trump's pick for ambassador to the UN, supports moving US embassy in Israel to Jerusalem https://t.co/tNgynwNpNApic.twitter.com/zFst4S3BfW

— The

IMEU

(@theIMEU) January 20, 2017
PLO: revoke recognition of Israel if US embassy moves to Jerusalem #Goldenglobes#Trump#MAGA#Theresistancehttps://t.co/02o1Q3sPSU

—

POTUS

Watch (@POTUSWatch2016) January 10, 2017
Abbas calls on Trump not to move embassy to Jerusalem https://t.co/muh9Me9s4m

— Evelyne Barthe (@camboviet) January 10, 2017
#GOP Bill Would Slash Diplomatic Security Funds Unless Trump Moves U.S. Embassy To Jerusalem | The Huffington Post https://t.co/AL6rgwCsTJ

— PoliticQues (@politicques) January 10, 2017
TV report: Trump's ambassador could work from Jerusalem, with embassy still in Tel Aviv https://t.co/P7JqUBZnlk via timesofisrael</a></p>&mdash; Haviv Rettig Gur (havivrettiggur) January 10, 2017
Trump's plan to move the US embassy to Jerusalem is a terrible idea for Israel, Palestine, and the regionhttps://t.co/X5CP5dM7yBpic.twitter.com/bCHx9gG2ms

— EventJara (@eventjara) January 20, 2017