Syria's antiquities chief says Islamic State militants have mostly destroyed one of the most famous monuments in the ancient city of Palmyra.
Militants from so-called Islamic State have mostly destroyed the Tetrapylon, one of the most famous monuments in the ancient city of Palmyra, according to Syria's antiquities chief.
The Syrian government has released satellite imagery which appears to show most of the original 16 columns of the cubic shaped monument reduced to rubble.
There is also extensive damage to the facade of the second-century Roman amphitheatre.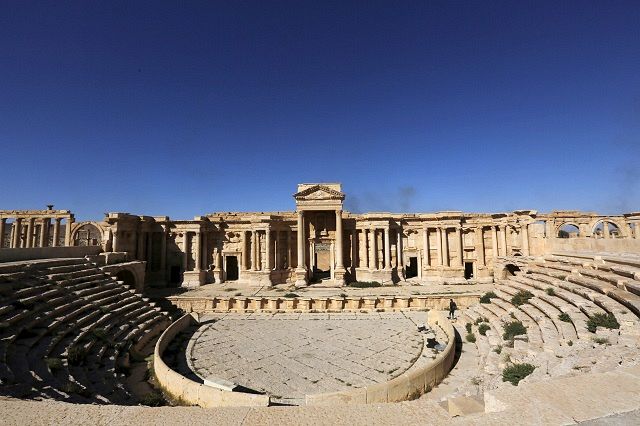 Photo: REUTERS/Omar Sanadik, 1 April 2016
Syria's head of antiquities Maamoun Abdulkarim said if the extremists remained in control of Palmyra "it means more destruction".
IS fighters recaptured Palmyra from Syrian forces in a surprise attack in December, nine months after they were expelled in a Russian-backed offensive.
During its previous time in control of the UNESCO world heritage site, the group destroyed other monuments there, including its 1,800-year-old monumental arch.
Palmyra, known in Arabic as Tadmur, stood at the crossroads of the ancient world.
"War crime"
The head of the United Nations cultural agency said the destruction of the Tetrapylon and the facade of the Roman Theatre in Palmyra was a "new war crime".
"This destruction is a new war crime and an immense loss for the Syrian people and for humanity," UNESCO Director General Irina Bokova said in a statement.
"This new blow against cultural heritage, just a few hours after UNESCO received reports about mass executions in the theatre, shows that cultural cleansing led by violent extremists is seeking to destroy both human lives and historical monuments in order to deprive the Syrian people of its past and its future."
DirGen IrinaBokova</a> condemns destruction of the Tetrapylon & severe damage to the Theatre in Palmyra <a href="https://t.co/QbtLWeHcDT">https://t.co/QbtLWeHcDT</a> <a href="https://twitter.com/hashtag/Unite4Heritage?src=hash">#Unite4Heritage</a> <a href="https://t.co/qSTmb50Jk6">pic.twitter.com/qSTmb50Jk6</a></p>&mdash; UNESCO (UNESCO) January 20, 2017