And also... a topless woman goes for Trump's crotch, the coach without a salary, and free pizzas to calm traffic nerves
Comments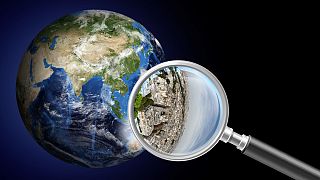 Every Friday journalists from euronews' various language teams choose a selection of stories from Europe and beyond which did not reach the international headlines
New Zealand choppers save cherries for China in Lunar New Year rush
New Zealand cherry producers are flying helicopters low over their orchards to dry off raindrops and protect thousands of tonnes of their product headed to Asia to feed rapidly growing demand from Chinese New Year revellers.
China has grown to become the second largest destination for New Zealand cherries after Taiwan in the past seven years.
Together they take about 60 percent of cherry exports, which were worth about NZ$43 million ($31 million/29.1 million euros) last year.
New Zealand choppers save cherries. https://t.co/81wJqCRGp5ReutersUK</a> Here&#39;s an interesting way to protect your rain affected crop.</p>&mdash; FreshProduce Brokers (FPBrokers) January 18, 2017
---
Bearing his artistic side…
Artists usually like to attend the opening of their exhibitions, but the painter of the works that went on display at a gallery in Helsinki on Tuesday (January 17) preferred to carry on hibernating.
The artist behind the exhibition entitled "Strong and soft touches" is a 423-kilogram (930 pound) brown bear named Juuso who uses his body, especially his paws, as paintbrushes.
Abstract expressionism?

They said the artist couldn't attend the exhibition opening, because he's hibernating :) https://t.co/jLJU3XD2gw

— DB Promotion Finland (@darknessbeside) January 19, 2017
---
Former distance runner, 100, proves he's got stamina for life, too
Britain's oldest Olympian has celebrated a major milestone – his 100th birthday.
Bill Lucas, who competed in the 5,000 track event at the 1948 London Olympic Games, said an evening whiskey was the key to a long life.
Lucas failed to qualify for the final in 1948 and puts it down to a lack of training because of his call-up to the RAF.
---
Topless activist 'makes grab' at Trump statue
A topless activist from the feminist group FEMENattacked a life-size wax statue of U.S. President-elect Donald Trump during an unveiling ceremony at Madrid's wax museum on Tuesday (January 17).
Reuters journalists at the scene saw the woman push past security ropes and place her hand on the statue's crotch while screaming "grab patriarchy by the balls."
---
Disabled dogs in town for Super Bowl extravaganza
Three disabled dogs are joining America's annual Puppy Bowl this year, bringing a special kind of ruff-ness (or woof-ness) to the celebration, which is intended as an antidote to the nation's Super Bowl football extravaganza.
A hearing and sight-impaired Australian shepherd, a deaf English pointer and a terrier born with three legs are among the more than 80 puppies from 34 U.S. shelters and rescue groups that were brought to New York for the taping of the game.
Watch a video of the dogs here
---
Spanish side appoints new coach… but won't be paying him
Spanish third-tier team CD Tudelano have taken the unusual step of appointing a coach without a salary.
Scottish businessman John Clarkson, who owns a care home business in East Anglia, takes over a side who are ninth in Group 1 of the regionalized Second Division B.
Clarkson denied local media reports he was investing money in the club and essentially paying to be its manager.
He told Sky Sports News investors in India and London would be "sponsoring me to coach the club".
---
Moth named after Trump because of hair-related resemblance
BBC News – Moth with 'golden flake hairstyle' named after Donald Trump https://t.co/h60E8w7OJp

— Vazrick Nazari (@vazrick) January 18, 2017
A small moth with yellowish-white scales on its head has been named after US President-elect Donald Trump, in honour of the former reality TV show host and real estate magnate's signature hairstyle.
The new species, dubbed Neopalpa donaldtrumpi, lives in a habitat that spans southern California and Mexico's Baja California and was named by evolutionary biologist Vazrick Nazari in an article published in the scientific journal ZooKeys.
So I named a species after realDonaldTrump</a>. Maybe now he&#39;ll make conservation of fragile US ecosystems a priority?<a href="https://t.co/jetz83AHaC">https://t.co/jetz83AHaC</a></p>&mdash; Vazrick Nazari (vazrick) January 17, 2017
---
Free pizzas for stranded motorists
Italians have praised a man who handed out free pizzas to motorists stuck in a traffic jam.
Simone Di Maria made the gesture amid tailbacks in Genoa on Monday (January 16) caused by fires in nearby hills.
Pizza was a way of getting a bad day back on track, Di Maria said in a Facebook post, which drew praise and was shared nearly 2,000 times.
Sources:
- New Zealand choppers save cherries for China in Lunar New Year rush
- Former distance runner, 100, proves he's got stamina for life, too
- Topless activist 'makes grab' at Trump statue
- Disabled dogs in town for Super Bowl extravaganza
- "Spanish side appoints new coach… but won't be paying him":
http://www.reuters.com/article/us-soccer-spain-tudelano-idUSKBN15335X
- Moth named after Trump over hair-related resemblance