Tension rises in Gambia as Adama Barrow is set to be sworn in as new president
Comments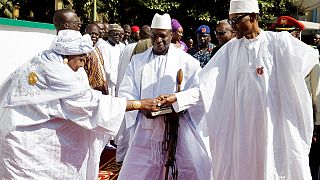 West African troops are preparing for what could be a potential showdown as Gambian president-elect Adama Barrow is set to be sworn in at the Gambian embassy in neighbouring Senegal, according to officials.
The army is prepared to back Barrow against the defiant incumbent Yahya Jammeh as tension grips Gambia.
Nigeria has deployed fighter jets and surveillance planes to Senegal.
Jammeh, in power since a 1994 coup initially conceded to Barrow but then back-tracked. He called a state of emergency and banned people from "any acts of disobedience". The security forces have been told to maintain order.
Adama Barrow won an election in December. West Africa's ECOWS bloc has said it is ready to remove Jammeh by force if he does not yield to Barrow. One of his senior aids told media outlets he will be sworn in on Thursday.
The tension has sparked an exodus of Gambians including senior politicians heading for Senegal among fears the political unrest could cause a refugee crisis. It's reckoned 20,00 have already fled.
Tourists too have left in their thousands. The country popular for its climate and long sandy beaches has long been a prime destination for European tourists. Several governments have advised their nationals to leave.