Desperate search for survivors of avalanche-hit hotel in Italy continues into the night
Comments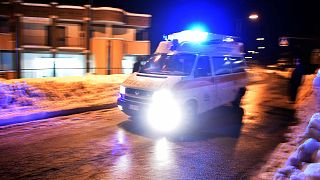 Rescue workers face treacherous conditions as they fight against time and the elements to find survivors after an avalanche struck a luxury mountain hotel in central Italy, hours after a series of strong earthquakes in the region.
The lower floors of the hotel appear to be structurally intact, but less is known about the upper floors, where up to 30 people could be buried under tonnes of snow.
Authorities said only two survivors had been found, and local media reported three bodies recovered, raising fears that the death toll may climb.
It was a rescue that began at 4 am hours after the avalanche, with rescue workers arriving on skis, leaving their vehicles on the approach road, as they waited for the way to be cleared.
"We are working with our tools, and the dogs are sniffing (the ground). It was an reinforced cement structure that collapsed, there are significant parts to remove, it will take time," explained Luca Cari, Italian firefighters spokesman. When questioned over the state of the hotel he said it had 'collapsed completely'.
Desperately searching for survivors they said they called out but heard no replies.
"In these cases hope is always the engine that keeps the workers going. If there was no hope the rescuers would not give it everything they've got," said Fabrizio Curcio, Head of the Italian Civil Protection Department.
The hotel sits at the bottom of the Gran Sasso mountain – an area hit by heavy snowfall in recent days.
Italian media reported that the guests had checked out of the hotel and were waiting for a snow plough to arrive when the avalanche slammed into the hotel.