US Presidential inaugurations from 1857 till now – Photogallery
Comments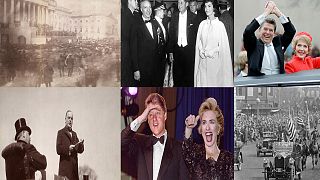 The 45th President of the United States will be sworn into office on January 20, 2017.
Having won the election on November 8, 2016, President Elect Donald Trump will take an oath on the steps of the U.S. Capitol building in Washington, D.C. and will take office at Noon.
Reuters have put together some pictures showing former U.S. Presidents' inaugurations.
The first known photograph of a presidential inauguration was taken in 1857 at when James Buchanan took office.
Also included in the photo gallery are the inaugurations of A.Lincoln, T.Roosvelt, J.F.Kennedy and many since.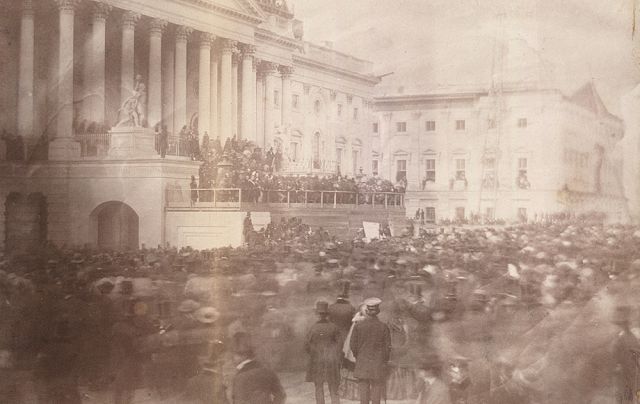 The first known photograph of a presidential inauguration shows James Buchanan at in front of the U.S. Capitol during his March 1857 inauguration. Library of Congress/Handout via REUTERS
---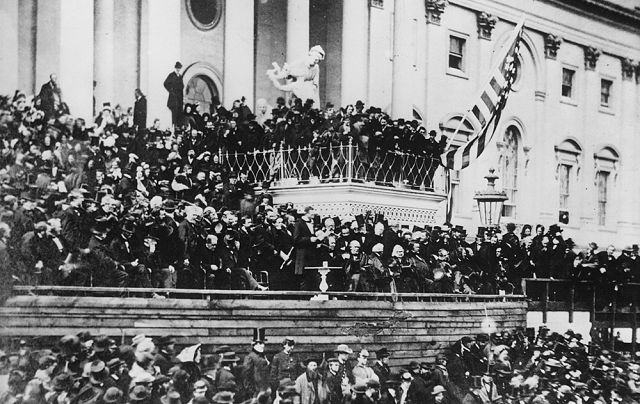 Abraham Lincoln delivers his second inaugural address on the East Portico of the Capitol in Washington, D.C. in March 1865. Library of Congress/Handout via REUTERS
---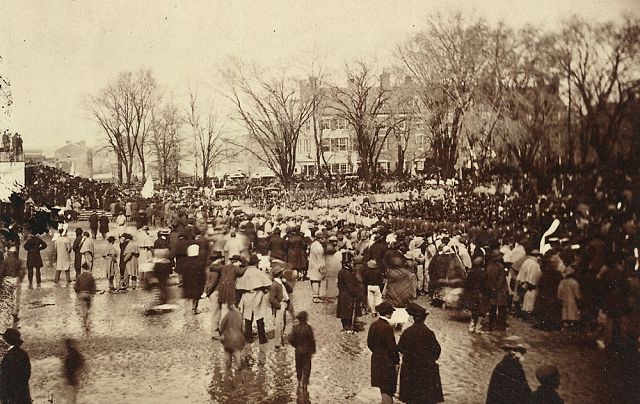 A large crowd awaits President Abraham Lincoln's inauguration, held on a rainy day in the U.S. Capitol's grounds in Washington, D.C., 1865. The crowd includes African American troops who marched in the inaugural parade. Library of Congress/Handout via REUTERS
---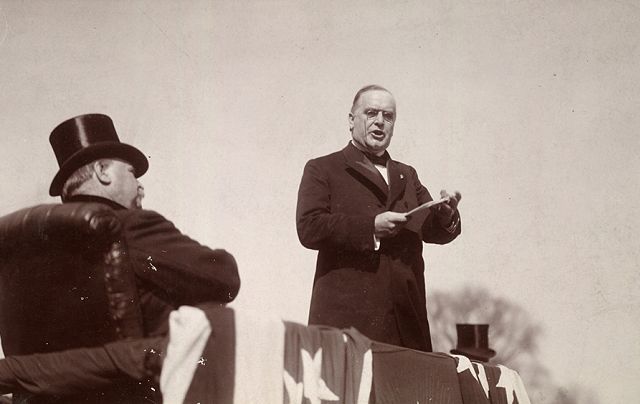 William McKinley delivers his inaugural address as outgoing President Cleveland listens in Washington, D.C., March 1897. McKinley's address was recorded by Edison's new motion picture camera and a gramophone. Library of Congress/Handout via REUTERS
---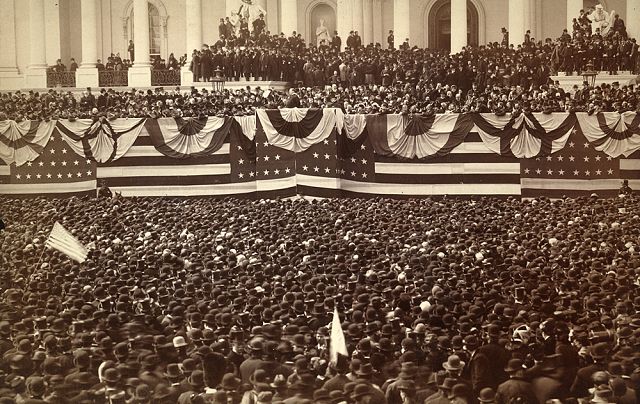 Grover Cleveland delivers his inaugural address on the east portico of the Capitol in Washington, D.C., U.S. in March 1885. Library of Congress/Handout via REUTERS
---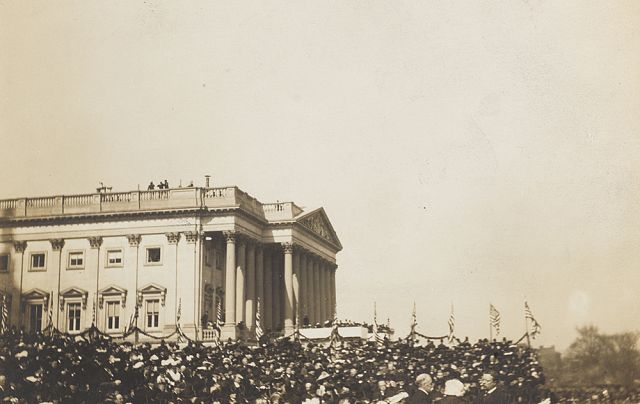 President Theodore Roosevelt is sworn in by Judge Fuller before an enormous crowd in Washington, D.C., U.S. March 1905. Library of Congress/Handout via REUTERS
---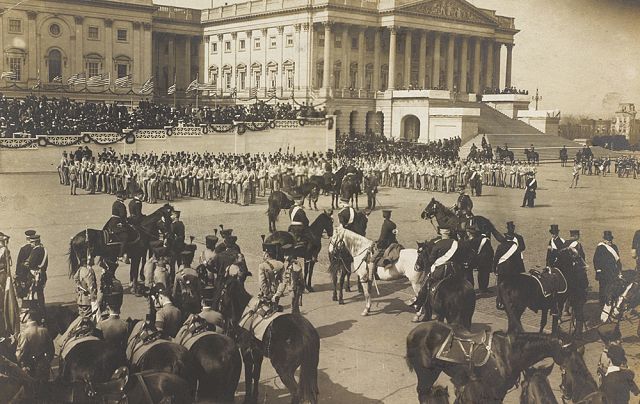 West Point cadets stand in formation outside the U.S. Capitol for the inauguration of President Theodore Roosevelt in Washington, D.C., U.S. in 1905. Library of Congress/Handout via REUTERS
---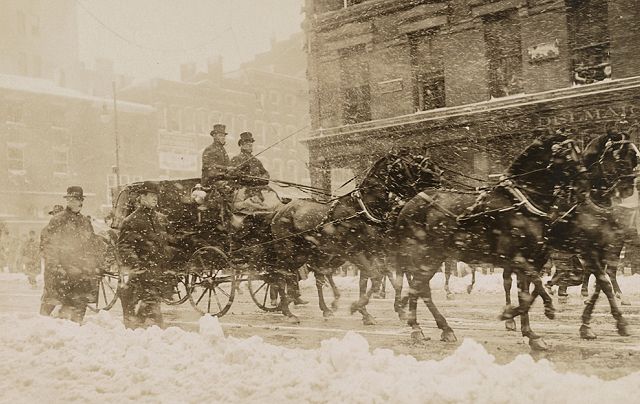 William Howard Taft and President Theodore Roosevelt head to the Capitol for Taft's inauguration in Washington, D.C., March 1909. A blizzard the night before left ten inches of snow in Washington, forcing the inauguration indoors to the Senate Chamber. Library of Congress/Handout via REUTERS
---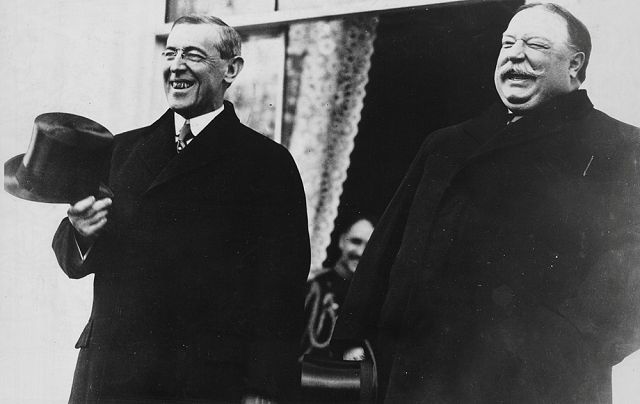 President-elect Woodrow Wilson and President Taft laugh on the White House steps before departing together for Wilson's inauguration in Washington, D.C., in March 1913. Library of Congress/Handout via REUTERS
---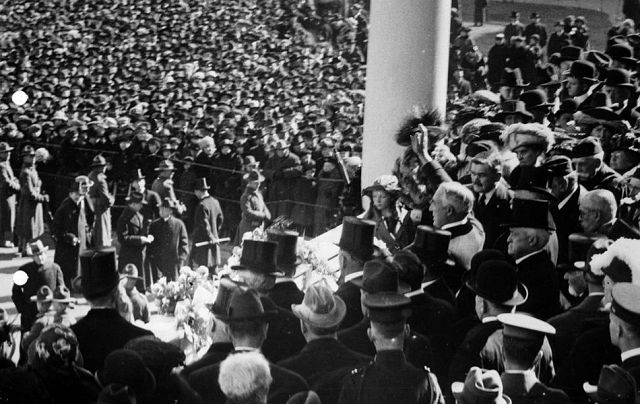 Warren Harding waves to the crowd after being sworn in on the East Portico of the Capitol in Washington, D.C. in 1921. Harding's inauguration was the first to feature an automobile, used to transport the president-elect and outgoing President Wilson to and from the Capitol. Library of Congress/Handout via REUTERS
---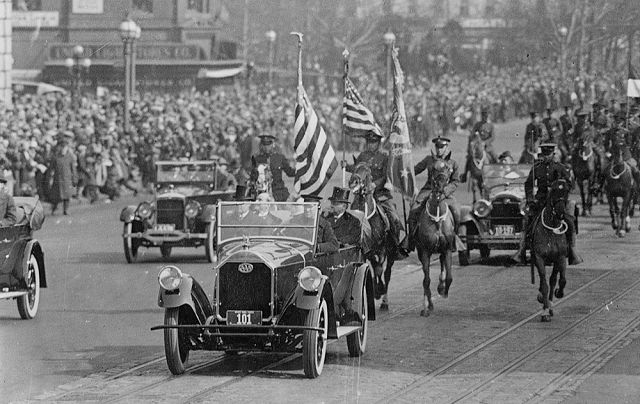 President Calvin Coolidge rides in a car during his inaugural parade in Washington, D.C. in March 1925. Library of Congress/Handout via REUTERS
---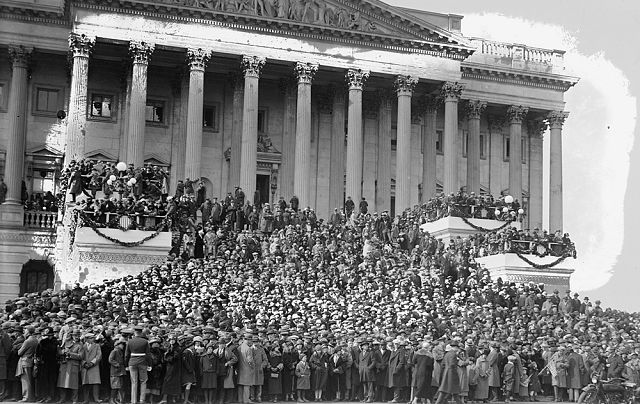 Crowds gathered at the inauguration of Calvin Coolidge in Washington, D.C. in 1925, the first to be broadcast on national radio. Loudspeakers and microphones on the inaugural platform also allowed those in attendance to listen in. Library of Congress/Handout via REUTERS
---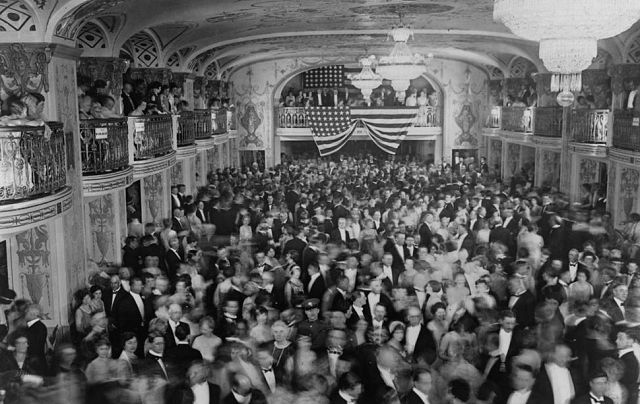 The crowd dances at President Herbert Hoover's inaugural ball at the Mayflower Hotel in Washington, D.C. in March 1929. Before the year was over, the Roaring Twenties would come to an end and the Great Depression would begin. Library of Congress/Handout via REUTERS
---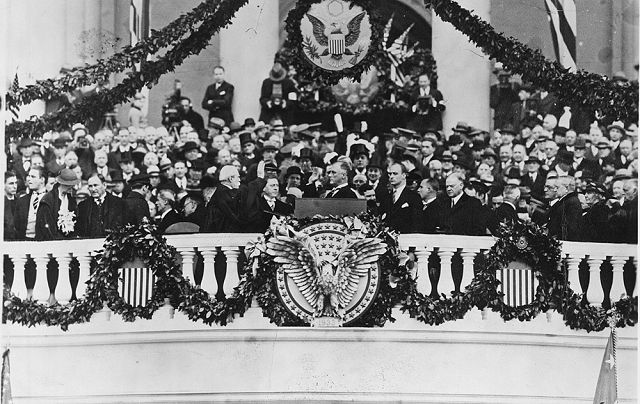 Franklin Delano Roosevelt takes the Oath of Office from Chief Justice Charles Evans Hughes in Washington, D.C., U.S. in March 1933. Roosevelt's inaugural address that day contained the famous line: "So, first of all, let me assert my firm belief that the only thing we have to fear is…fear itself." Library of Congress/Handout via REUTERS
---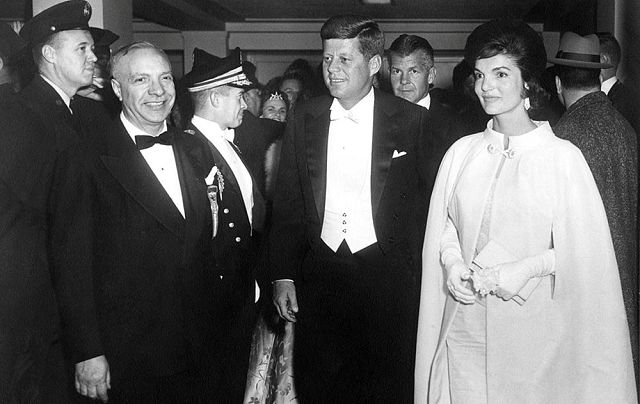 John F. Kennedy and Jacqueline Kennedy arrive at the National Guard Armory for the inaugural ball in Washington, D.C. in January 1961. Ethel Frankau of Bergdorf Custom Salon designed the first lady's sleeveless gown and matching cape. John F. Kennedy Presidential Library & Museum/Handout via REUTERS
---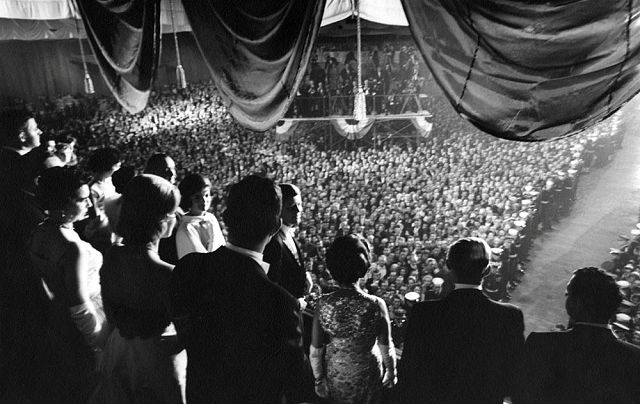 John F. Kennedy and party at the inaugural ball in Washington, D.C. in January 1961. Alongside the new president are Vice President Lyndon B. Johnson, Jacqueline Kennedy, Ted Kennedy and his wife Joan, and Kennedy's parents Joseph P. and Rose Fitzgerald Kennedy. Abbie Rowe/White House Photo/John F. Kennedy Presidential Library & Museum/Handout via REUTERS
---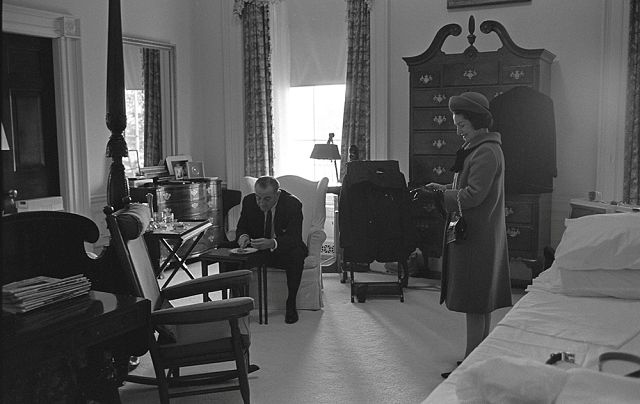 President-elect Lyndon B. Johnson and Lady Bird Johnson on the morning of his second inauguration in Washington, D.C. in January 1965. Yoichi Okamoto/White House Photo/LBJ Library/Handout via REUTERS
---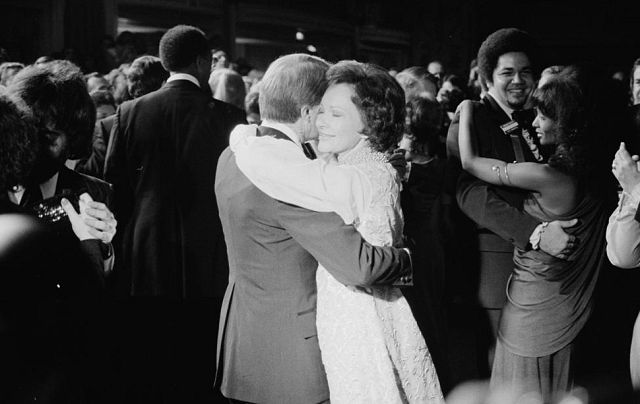 Jimmy and Rosalynn Carter dance at the inaugural ball in Washington, D.C. January 1977. Rosalynn Carter's gold-trimmed dress was the same she wore to her husband's gubernatorial inauguration six years earlier, designed by Mary Matisse. Marion S. Trikosko/White House Photo/Library of Congress/Handout via REUTERS
---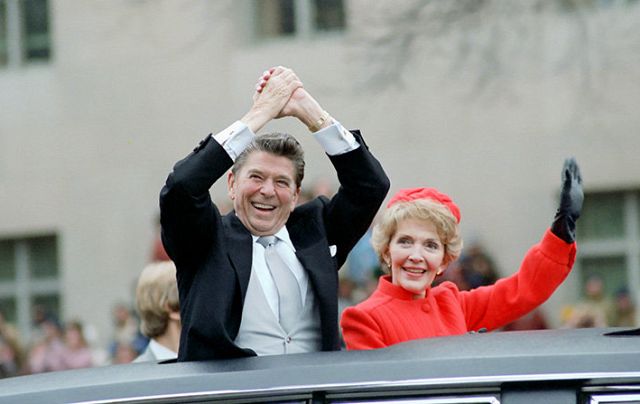 Ronald and Nancy Reagan wave from the limousine during their inaugural parade in Washington, D.C. in January 1981. Ronald Reagan Presidential Library/Handout via REUTERS
---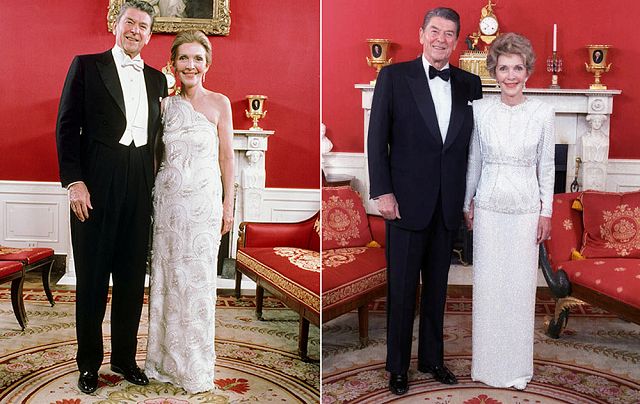 Ronald and Nancy Reagan pose in the White House Red Room before attending their inaugural balls in Washington, D.C. in 1981 (L) and 1985. Nancy Reagan wore John Galanos-designed gowns for both occasions. Ronald Reagan Presidential Library/Handout via REUTERS
---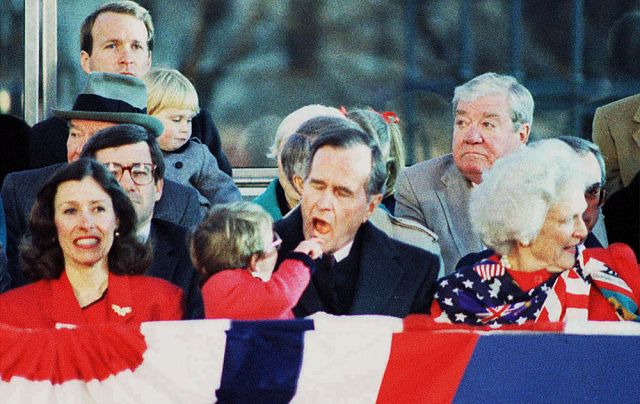 George Bush's granddaughter Ellie LeBlond shines a flashlight into his mouth during the opening ceremonies for Bush's January 18, 1989 presidential inauguration in Washington, D.C., as Marilyn Quayle (L) and Barbara Bush ® look on in this file photograph. REUTERS
---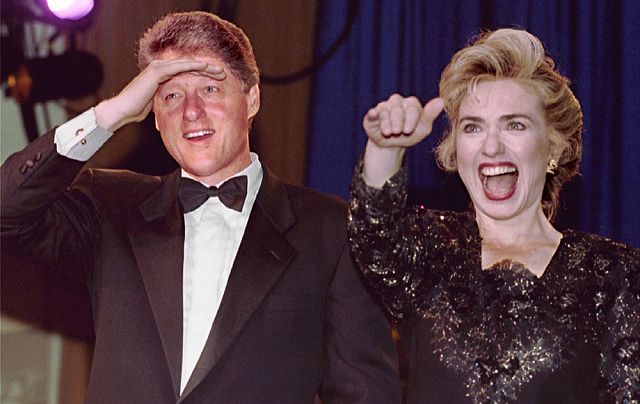 President-elect Bill Clinton and his wife Hillary look and wave at the crowd as they arrive to attend their third inaugural dinner at a Washington Hotel in 1993. REUTERS
---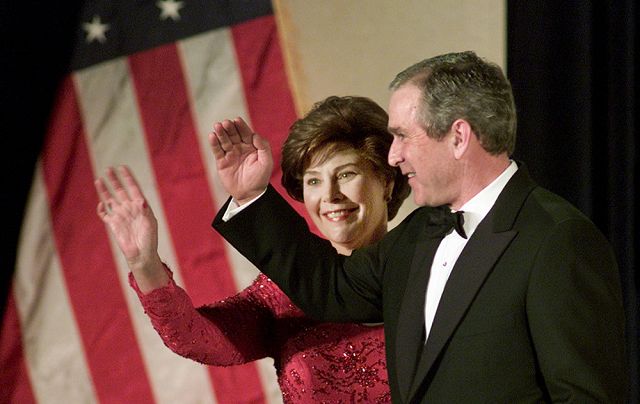 President George W. Bush and his wife Laura wave at an inaugural ball held at Union Station in Washington January 20, 2001. REUTERS
---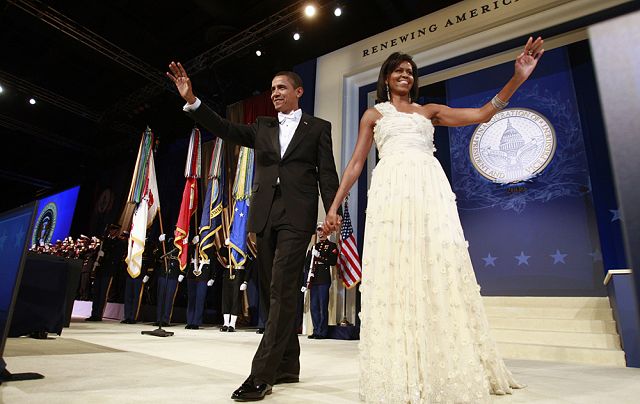 U.S. President Barack Obama (L) walks on stage with First Lady Michelle Obama during the Western States Inaugural Ball in Washington, D.C. January 20, 2009. Barack Obama took power as the first black U.S. president on Tuesday and quickly turned the page on the Bush years, urging Americans to rally to end the worst economic crisis in generations and repair the U.S. image abroad. Michelle Obama is wearing a custom-made dress by Taiwanese designer Jason Wu. REUTERS/Jason Reed (UNITEDSTATES)