Putin on those accusing Trump: they are worse than prostitutes
Comments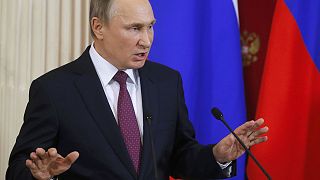 The Russian President has hit out at those he claims are spreading fake information about the US President-elect.
Vladimir Putin slammed as "utter nonsense" the unsubstantiated intelligence claims that Moscow had gathered compromising material on Donald Trump.
"People who order such fakes, fabricate them and use them in a political struggle are worse than prostitutes," said Putin.
"They have no moral limits whatsoever. By the way, Russia deals with such people all the time, with our opponents."
Putin also cast doubt on claims in a dossier last week that Trump had met with prostitutes in Moscow.
He said: "Trump arrives and straight away rushes to meet with Moscow prostitutes. This is an adult man first of all and, apart from that, is a man who for many years took part in organising beauty contests.
"I find it difficult to believe that he ran to a hotel to meet with our girls of reduced social responsibility. Although here we do have the best ones in the world."
Trump has also dismissed the claims, which were part of a dossier said to have been put together by a former British secret service agent.
But intelligence agencies did brief President Obama and Trump on the matter.