Venezuela rolls out new banknotes in response to high inflation
Comments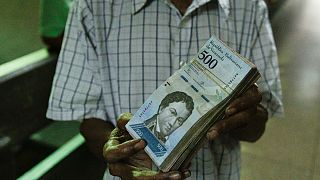 Weeks behind schedule and amid fears it will do little to resolve Venezuela's soaring inflation, the country's government has released new banknotes, valued between 500 and 20,000 bolivars.
Venezuelans have been queueing at ATMs and banks for the new banknotes.
Caracas resident Gustavo Castillo, was not optimistic about the fresh roll-out.
"I think it is more of the same. Effectively what we are doing is putting more money on the street, attracting more inflation. The economic situation that is getting worse will not change. More notes on the street means more inflation, depreciation in the currency and nothing else," he told reporters.
Venezuela's Socialist President, Nicolas Maduro, has extended the deadline for withdrawing the 100 bolivar note for a third time, to February 20.
Worth just two euro cents on the black market, it is being scrapped the leader said, to prevent smuggling and the hoarding of currency abroad.
At the beginning of January, 2017, the International Monetary Fund (IMF) calculated inflation in Venezuela was at 475 percent, but it forecasts it could reach 1,660 percent this year. If this proves to be the case, it would be one of the highest inflation rates in the world.