The Vendée Globe: Time is running out for Alex Thomson
Comments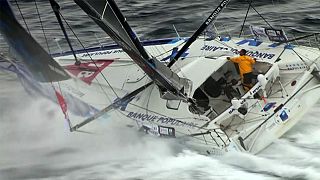 The eighth edition of the Vendee Globe, the world's only solo, nonstop around-the-world sailing race is drawing to a close as the two frontrunners Alex Thomson and Armel le Cleac'h are giving sailing fans a thrilling finale.
The Welsh sailor, bidding to become the first Briton to clinch the prestigious 24,000 nautical mile race, is now just 57 nautical miles behind the Frenchman but time is running out for the 42-year-old to complete what would be a stunning comeback.
With under 500 miles remaining, le Cleac'h and Thomson are expected to arrive at the Sable D'Olonne on Thursday.
The pair are under no threat from third placed Jérémie Beyou who is approximately 850 nautical miles behind. France's Jean-Pierre Dick and fellow countryman Jean Le Cam are currently sitting fourth and fifth respectively.
Vendée Globe: Forecasting the Finish https://t.co/PeDo5hZPXqpic.twitter.com/w0UqkZwV4v

— Work Less Sail More (@Sailing__Life) January 7, 2017