Vendee Globe: Alex Thomson sets new world record
Comments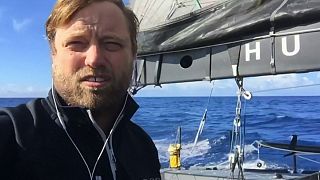 Welsh sailor Alex Thomson continued his great run of form, setting a world record for the most distance sailed solo in 24 hours in the Vendee Globe.
The 42-year-old, bidding to become the first Briton to clinch the prestigious 24,000 nautical mile race, reportedly sailed his 60-foot single-hull yacht at a speed of 22.4 knots, covering 536.8 miles.
Thomson, who led for much of the early stages, broke two race records prior to being overtaken by France's Armel le Cleac'h. The gap separating the two sailors has been reduced to 73 nautical miles, setting up a thrilling Vendée Globe finale.
With under 1,300 miles remaining, le Cleac'h and Thomson are expected to arrive at the Sable D'Olonne on Thursday.
Alex Thomson beats 24 hour world distance record https://t.co/VF0wh7T8zApic.twitter.com/QvtdGQeXYo

— Yachts Boats World (@AlexMartinYacht) January 16, 2017