ISIL launches fierce assault on Syrian government enclave
Comments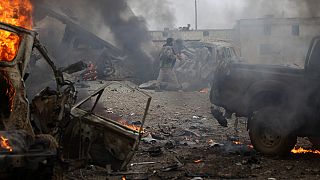 ISIL militants have launched a fierce assault on a Syrian government enclave in the city of Deir al-Zor.
The Syrian Observatory for Human Rights says at least 82 people have been killed, with militants attempting to cut the enclave off from a nearby military base.
ISIL began to advance on Deir al-Zor in 2015, with the army only managing to retain control of the city's airport and some neighbouring districts.
ISIL is coming under increasing pressure from a US-backed coalition of Kurdish and Arab militias and rival Turkish-backed Syrian rebel groups.
The UN World Food Programme temporarily suspended air drops to Deir al-Zor because of the new heavy fighting there.
Meanwhile, preparations are underway for peace talks backed by Russia and Turkey in Kazakhstan on January the 23rd, negotiations that Syrian rebel groups have now decided to attend.
The Russia Foreign Minister claims some Western countries who feel left out may try to undermine the talks.
The Obama administration is not taking part but Sergei Lavrov said President-elect Trump's team would be invited.