Iran to Trump: nuclear deal is not bilateral and it's not up to you
Comments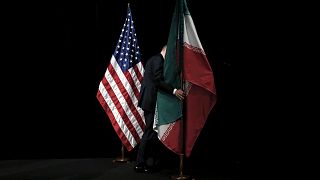 It was signed with much fanfare in July 2015 but President-elect Trump has made it plain that he wants to go back to the drawing board.
The nuclear deal with Iran is one of the thorny topics to watch after Trump's inauguration on Friday.
But already the Iranian President has slammed it as all hot air from Trump and talk of changing the deal is "meaningless".
"What he said was mainly electioneering," said Hassan Rouhani at a media conference on Tuesday.
"I do not see it likely that this is something that will happen in practice when he enters the White House because it's not a bilateral deal and it's not for him to say if he likes it or dislikes it."
And the message about the deal not being bilateral is exactly what the outgoing US Secretary of State has hit home.
John Kerry, in Davos, said on Tuesday: "I bet you that all of our friends and allies who negotiated this with us would get together and that Russia, China, Germany, France and Britain would say, you know what? This is a good deal, we are going to keep it.
"And Iran and the rest of world would keep it and we will have made ourselves the odd-person out. We'll have injured our own credibility in conceivably an irreparable way."
Trump has called the nuclear accord the worst deal ever negotiated, while his nominee for Secretary of State is recommending what he calls a "full review".