Turkey's parliament backs controversial constitutional changes
Comments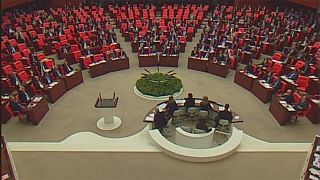 Turkey's parliament has given preliminary approval to a new constitution which will increase the powers of President Recep Tayyip Erdogan.
It will allow the president to appoint and dismiss ministers, give him more scope to declare an emergency and also abolish the post of prime minister for the first time in Turkish history.
Instead there will be at least one vice-president.
What changes under Turkey's new constitution plan? https://t.co/5ioFI7d9Tt

—

AFP

news agency (@AFP) January 16, 2017
Debates over the constitutional changes have been heated.
Last week a fight broke out in parliament after the AKP clashed with Republican's People Party (CHP) members when an MP tried to film a voting session during a debate.
The CHP, the biggest opposition party, opposes the changes.
There will be a second round of voting later this week and, if approved, a referendum will follow.