Taiwan leader visits US as Trump again queries 'One China' policy
Comments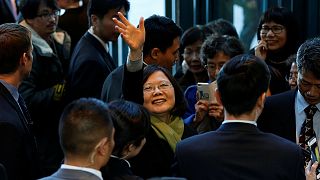 Taiwan's president passed through San Francisco on Saturday – her second US visit this month, not unnoticed by a crowd of well-wishers.
Nor will it be lost on China, nervous about a possible change in America's stance less than a week before the US presidential inauguration.
Donald Trump caused a diplomatic row in December after taking a call from Tsai Ing-wen.
He has stood by remarks saying he won't commit to the decades-old agreement of not recognising Taiwan politically.
Earlier, supporters of America's official "One China" policy also turned out in force.
Beijing considers self-governing Taiwan a renegade province, objecting strongly to diplomatic moves recognising the territory as independent.
Trump has asked why, when America sells Taiwan military equipment, "we're not allowed to accept a phone call".