Eurowings flight makes emergency landing in Kuwait over bomb scare
Comments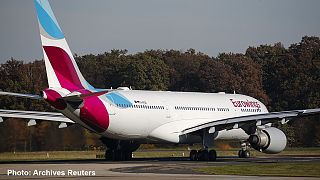 A Eurowings flight travelling from Salalah in Oman to Cologne has made an emergency landing in Kuwait after a bomb scare, Kuwait's Civil Aviation Authority said.
No evidence of a bomb was found, a Lufthansa spokesperson confirmed.
Flight EW117, an Airbus A330-203 was carrying 299 people on board, according to state-run KUNA news agency, all were evacuated after the captain requested an emergency landing.
Eurowings is a subsidiary of German company Lufthansa.