USA: stolen baby found alive 18-years later
Comments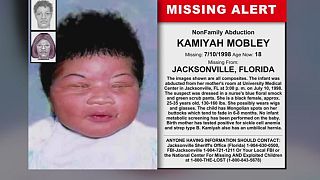 Police in South Carolina say they have found a woman who is believed to have been kidnapped hours after her birth 18-years ago.
Kamiyah Mobley had suspicions she didn't belong to the people who raised her. Her original identity emerged after DNA analysis.
Jacksonville Sheriff, Mike Williams, said she's in good health, but understandably overwhelmed: "We found an 18-year-old young woman with the same date of birth but a different name. Further investigation revealed that fraudulent documents had been used to establish that young woman's identity. And interviews with people in Walterboro supported the possibility that this young woman may in fact be Kamiyah Mobley," he said.
"JSO (Jacksonville Sheriff's Office) investigators obtained a DNA sample from her earlier this week. That sample was submitted to the FDLE (Florida Department of Law Enforcement) crime lab for testing. And last night we received confirmation that the young woman that we contacted in South Carolina is in fact Kamiyah Mobley."
Police have charged 51-year-old Gloria Williams with kidnapping and interference with custody. It's thought she posed as a nurse at University Medical Center in 1998.