Iraqi soldiers storm Mosul university in further push against ISIL
Comments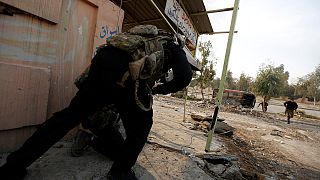 Iraqi soldiers have advanced into the main university complex in the city of Mosul as part of a new push against ISIL militants.
The army says the militants have been forced to retreat and a key bridge across the Tigris river has been retaken.
Iraqi forces enter #Mosul University campus, liberates bridge from #ISIShttps://t.co/Enjbw0vnx3#Iraq#MosulOps

— Al-Masdar News (@TheArabSource) January 13, 2017
Seizing back control of the university would be a symbolic victory for the army.
Major-General Sami al-Aridhi, commander of the Iraqi counter-terrorism unit, told reporters: "This was an important stronghold for ISIL, knowing that they had their headquarters here.
"They certainly had equipment and well-prepared bases here, so they tried to hold on to the area at first, but the fast advance and the strong attack by our forces pushed them out."
ISIL militants took control of Mosul in 2014, but over the past three months soldiers, backed up by US forces, have recaptured many districts in the east of the city.
Attacks against ISIL strongholds in the west are planned once the east is secure, with the operation against the militants gathering pace in recent weeks.
In Mosul areas retaken from Islamic State, loss and fear linger https://t.co/DTQ6JowDWX

— Reuters Top News (@Reuters) January 12, 2017
In Mosul areas retaken from Islamic State, loss and fear linger https://t.co/DTQ6JowDWX

— Reuters Top News (@Reuters) January 12, 2017