Pakistan's PM reaches out to minorities during Hindu temple visit
Comments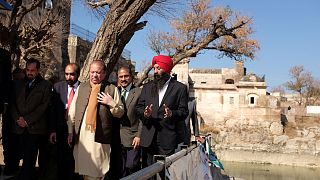 The restoration of an ancient Hindu temple complex in Punjab has been inaugurated by Pakistan's Prime Minister Nawaz Sharif.
The 900-year-old site is one of the holiest in South Asia for Hindus and the visit is being seen as a symbolic gesture by the premier to appeal the the Muslim country's minority communities.
At the ceremony, attended by senior Christian, Sikh and Hindu leaders, Sharif chastised hardline Muslim scholars who use "strange interpretations" of Islam to preach hate against other religions.
Political analysts say Sharif's visit to the Katas Raj temples was part of an effort to reach out to minority groups ahead of a general election scheduled for 2018, and which would also appeal to more liberal, urban voters in Pakistan.
Non-Muslims make up only about three percent of the 190 million population, but they are clustered and their votes could swing some seats in the provinces of Punjab and Sindh.