Missing six year-old girl and father found in Australia after sailing from New Zealand
Comments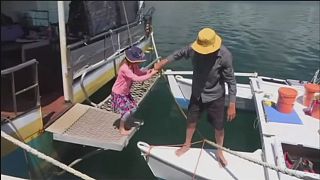 A six-year-old girl and her father missing at sea for more than a month have been found safe and well in Australia.
Despite suspicions of trying to flee New Zealand, Alan Langdon says he and his daughter Que were forced to sail their damaged yacht more than 2000 kilometres across the treacherous Tasman Sea.
Their arrival in Australia ends an international search for the pair.
"We were in a position with no rudder, we didn't have as many options. We waited for the weather, like I said, I waited for the fine weather and that didn't come and at that stage we were getting pushed south and out. I didn't realize that sailing with one rudder was going to be as difficult as it was, (it) was interesting, challenging," Langdon said.
Langdon, an Australian citizen, is estranged from his daughter's mother, who signalled their disappearance from New Zealand.
He says it wasn't possible to inform anyone of their whereabouts, but insists they were safe.
"She spends lots of the time at sea. I don't see her being in any danger. We were never in danger," Langdon said.
It is unclear whether Langdon will face any repercussions for the trip in which he says they had plenty of food and saw lots of whales.