Hopes for a peaceful Cyprus lie in a UN vault
Comments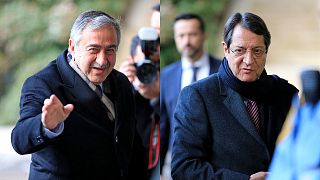 The historic Cyprus talks in Geneva have been slow and difficult. Both side have created maps with proposals for new boundaries. They have been submitted to the UN and sealed in a vault. Discussions to thrash out a single, compromise map will be scheduled for a later date.
Turkish Cypriot spokesman Baris Burcu said both maps conformed to already agreed upon criteria for how much of the island's land would go to the Turkish Cypriot zone — between 28.2 and 29.2 percent.
In the meantime, the talks will move in an international direction on Thursday (Jan 12). The foreign ministers of Cyprus' so-called guarantors — Turkey, Greece and former colonial power Britain — are set to join a discussion on the pivotal issue of post-unification security arrangements.
Cyprus has been divided since 1974. Analysts say the very fact that both sides have reached this point, discussing territorial trade offs is progress in itself.