23 new suspects in Hillsborough case
Comments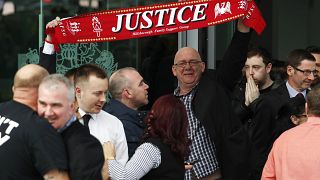 23 files on people and organisations involved in the 1989 Hillsborough football stadium disaster have been passed to the UK's prosecution service.
An inquest that finished in April 2016 rules that the 96 victims of the tragedy, all Liverpool FC fans, were 'unlawfully killed'.
At least one man, South Yorkshire Police's Chief Superintendent David Duckenfield , was found responsible of gross negligence by the inquest.
The Crown Prosecution Service (CPS) will now decide whether to bring criminal charges against the as yet unnamed 23.
The suspects are related to two investigations which were ordered in 2012, the same year that the original accidental death verdicts were quashed by the Hillsborough Independent Panel.
15 of the 23 suspects relate to the police Operation Resolve, and the eight further suspects are from the Independent Police Complaints Commission.
The charges being considered by the CPS include; Gross negligence manslaughter, perverting the course of justice, and misconduct in public office.
It is possible that more charges could be considered, if evidence presented by the investigations require them.
The families of "The 96", as they have become known, have campaigned for over 25 years to find justice for their relatives.
The 96 died when gates were mistakenly opened in the notorious Leppings Lane end stand, and overcrowding forced spectators to be crushed against barriers.
Reports at the time blamed the Liverpool fans for the deaths, though The Sun newspaper has since apologised for these claims.