Samsung chief becomes suspect in South Korea political scandal
Comments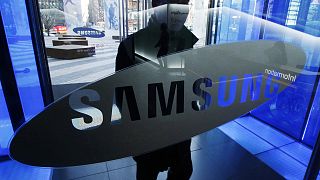 The heir apparent of tech giant Samsung has become a criminal suspect in a widening corruption probe engulfing South Korean president Park Geun-Hye.
Prosecutors will quiz Lee Jae-yong over alleged bribery on Thursday.
Currently vice-chair, Lee is considered de facto boss of the entire Samsung group since his father suffered a heart attack in 2014.
The firm is accused of donating millions to non-profit foundations operated by president Park's close confidante Choi Soon-sil in a bid to curry favour.
She has already been charged with coercion and attempted fraud.
Prosecutors claim Samsung gave the equivalent of almost three million euros to Choi and her daughter in return for the South Korean leader's support over a controversial merger.
Park, who stands accused of colluding with Choi to extract money from several top South Korean firms, was impeached by parliament last month.
The country's constitutional court has six months to uphold or overturn that decision.
Park has denied any wrongdoing, but has apologised for the way she managed her relationship with Choi.